The book Celtic Dreams came about after thinking it would be good to do my own book after illustrating a number of books by others. I pitched the idea to, Stuart Booth, the then editor at Blandford Press who'd given me a number of my early commissions and got the go ahead. The basic plot of the book is, that of an anthology of Irish poetry, with every page having a piece of my artwork on it.
At that time, I had built up a fairly sizeable database of black and white celtic artwork. I then created various extra pieces comprising borders, carpet pages and title pages to complete the set I would require. I also had to get to grips with writing, since I had decided to do a fairly comprehensive introduction. Along with an appendix of explanatory notes to some of the mythological poems contained within.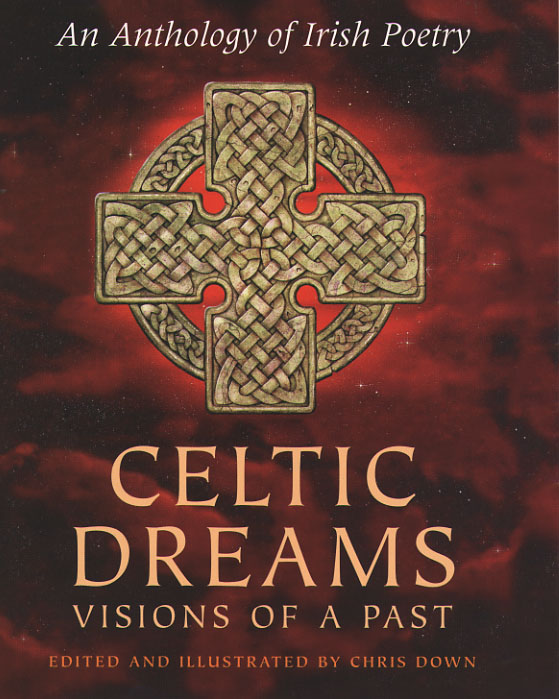 The poems covered, range from a translation about the earliest Irish invasion myths, through to the latter half of the 20th century. Choosing and collating the poems to be used, tracking down the owners of copyright, then obtaining permission to print from agents, authors or relatives of deceased authors, took a fair amount of work. The project emerged over a two year period. A couple of poems I had to leave out because although I knew that copyright would exist I could not find the owner of that copyright. I did not have the internet to do my research on at the time. So it was lots of phone calls to publishing houses and trips to the library.
Some of the poets included in the book are W.B. Yeats, Seamus Heaney, Patrick Kavanagh, Oscar Wilde, J.M. Synge, Jonathan Swift, Padraic Colum and Thomas Kinsella. Various issues get covered and I split the book into three sections. 'The Mists of Time' has poems relating to mythology and history in which, amongst others, Chúchulain, the Morrígan and the Sídhe appear. 'Sacred Spaces' concerns the land, the people lived on it, and the way they lived. Finally is 'Of Love and Freedom' which goes beyond the land to emotions, ambitions and longings.
It was an ambitious project. In addition to all the other work, I did all the page layout design. Yet another time when I taught myself as I went along. I undoubtedly would do it differently now with many more years experience behind me but it certainly served its purpose.

Later when having editorial meetings with the publishers David & Charles Ltd, for the Crafters' Design Library books, I asked to be involved in the page layout design. They were uncertain. I was able to show a copy of Celtic Dreams as an example of what I could do. The response was "we get authors who think they can do page layout who really can't but you obviously can." Those later books were far more collaborative working with the publishing house and much better for it. But Celtic Dreams was the starting point which enabled them to happen in the way they did.