Chris Down has spent most of his life in a rural wooded valley a short walking distance from Stonehenge. The route to Stonehenge, along an ancient green lane carving through rolling fields, is a journey he has made from school age in the 1970's and the time of the Stonehenge free festivals. Once a year in June, to celebrate the summer solstice, a gathering on the plain occurred which stirred the interest of his young mind. There, he found a whole new world.
Compared to the life of farms, fields and quiet country lanes, this could have been on another planet. One which was wild, crazy and anarchic. A temporary city of tens of thousands that appeared from nowhere in a time before festivals became commonplace. Here, Chris found much to inspire, enthral and educate.
Lost in Projects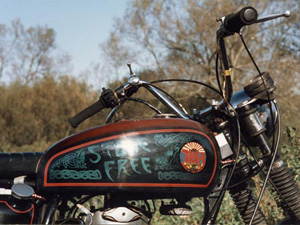 He had spent much of his childhood avidly reading books along with making and painting things. Always lost in some project or another. His grandfather had been both a writer and artist who wrote for BBC radio and television for much of his life. Chris's uncle also wrote for television. Including the cult series Dr Who in the 1970's and was responsible, with his writing partner, for bringing the world the robot dog K9. With childhood influences like these, to spend a life being creative was a natural progression.
At Stonehenge, Chris would find much of the inspiration and roots to his way of life. The reading continued, this time fantasy and sci-fi books adorned with cover paintings of exotic otherworlds. He became aware for the first time of artists like Boris Vallejo, Chris Achilleos and Jim Burns. It was also the time of classic album covers. Exemplified by the United Artists era Hawkwind covers depicting crashed spaceships and lonely warriors on the edge of time. Heady stuff.
Celtic Knotwork
Then Chris discovered Celtic knotwork through the graphics work of Jim Fitzpatrick. Before long, he was painting knotwork onto custom motorcycles. Custom bikes were one of the many things that came to him through the portal of the Stonehenge Festival. It was not simply a gathering of the great unwashed but bikes in their thousands. Many were altered or customised in some way. Chris's first bike was quickly taken apart to be painted with sci-fi influenced images and Stonehenge on the petrol tank.
He was still at school, working on his A-levels. Old bikes could be bought ridiculously cheaply and put on the road in perilous states of repair for next to nothing. Chris bought a 1960's BSA single. Naturally it was taken apart and painted before clattering off to the University of Sussex.
Bleary-Eyed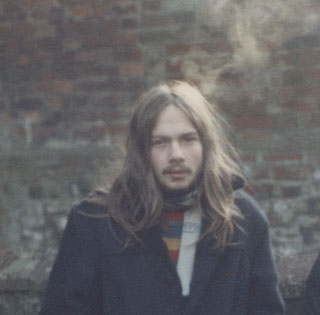 Three years later, he emerged bleary eyed and with a degree in Electronic Engineering. Chris has no formal art training and is entirely self-taught. After university, Chris got a regular nine to five job. This is only mentioned here, as it is a brief blip in an otherwise unblemished career record. A little over a year later, he left the job under a dark cloud, after crashing the managing directors' motorbike into the side of a car. He has avoided doing this sort of thing ever since. Having a full time regular job that is, not crashing motorbikes.
It could be said that, after this time, Chris knew what his destiny was and set about with absolute diligence the studied path of an artist refining his craft. This would be a downright lie. He spent many years careering across the country on glorious motorbikes. Pitching up at festivals, bike rallies and gigs. Watching as many bands as possible. Music was a driving force.
Random Noises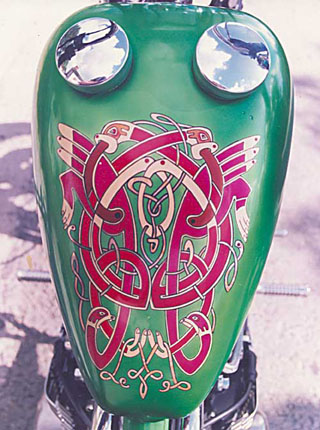 Very briefly he had a stint in a band playing synthesiser. Making lots of random noises. He did not practise or really learn the songs, just improvised. He takes a similar approach with his art. Often making it up as he goes along and working intuitively. For the best part of a decade, he earned his living as a freelance architectural technician. Being paid to travel around the country, nose round interesting old buildings then produce a set of working drawings, in order to fund a degenerate lifestyle, had its appeal.
It was in 1993 that Chris got serious about art and shut himself away for several months in order to really learn how to do Celtic knotwork. He had been producing Celtic designs on motorbikes for a number of years by then. One of these bikes, featuring a foray into working with gold leaf, had a magazine article written about it. The feature, using photographs Chris took of the bike, was the first time his work was seen in published form.
Later, another bike he painted also had an article written about it. This time Chris was asked to produce a painting for the magazine to go with the article. Another first for him and one that heavily utilised Celtic art. Being paid for this and another painting for a bike magazine, helped convince him that he should move from architectural work to illustration and specialise in Celtic Art.
Celtic Cards
At the beginning of 1994, a set of twelve Celtic cards were published, followed that summer by his first commission to illustrate a book. Since then, he has contributed illustrations to some 55 books. Most of those have been pen and ink. A painting of a dragon led to some book cover commissions. After which came a commission to produce 16 paintings for a single book. As tends to be his way, he taught himself the skills he needed as he went along and got a further book commission to produce another 16 paintings.
At this time, he worked in a combination of acrylic and watercolour for the paintings. The airbrush used to custom paint the bikes also came into play for these paintings. As would sponges, toothbrushes and scalpels. Anything that would apply, splatter or scrape away the paint to create the desired effect. The second of these two books marked a major transition as it introduced digital elements to his art.
A Serious Tool
It was the time when the computer was striving to be seen as a serious tool. Much as the airbrush was in the 1970's, it was initially shunned by many of the generation that came before it. Truthfully, it was not a mature technology at the time and would not be for several years. Possibly his engineering background meant that he readily adapted to the new tool. From that point on, all the art supplied by Chris to publishers would be in digital form ready for printing.
He learnt HTML and built himself a web site and set about learning desktop publishing and book design. In 1998, the Book Celtic Dreams was published by Blandford Press. This was an illustrated anthology of Irish poetry, the idea for which was Chris's concept. For this, he collated the poems, wrote the additional text, produced the illustrations, painted the cover and designed all the page layout. It was a two year project which taught him a lot.
Knowledge Gained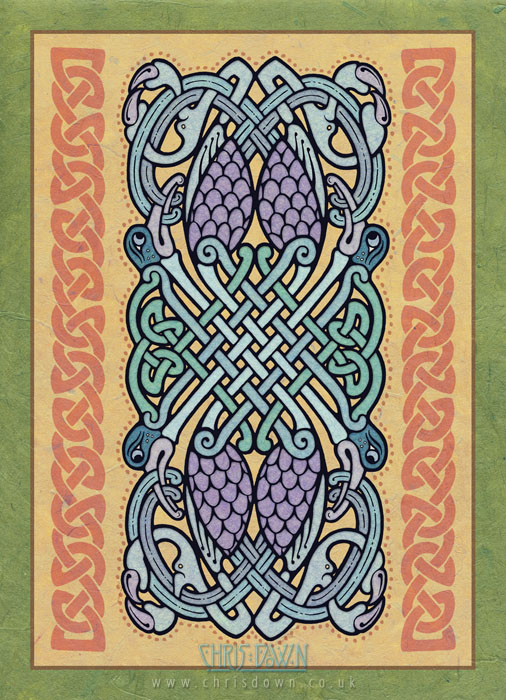 Although the sales for Celtic Dreams were modest, it was a poetry book after all, the knowledge gained from working on it was useful for his two major book projects for the publishers David and Charles. For these, Chris produced some 600 illustrations. He worked closely with the publishers in the design process of the books. Being involved in the page layout and again writing much of the text. These books have gone on to sell tens of thousands of copies and have been published in the UK, United States, France, Germany, Russia and China.
Along with the books, Chris's Celtic art has been used on cards, window transparencies, mugs, coasters, bookmarks and wall plaques. For a decade, Chris concentrated on the Celtic art and the pen and ink work for books. In 2005, he decided to paint again. This time digitally and set about learning that process.
He was to apply techniques learnt years previously with traditional media and adapt them to the new media along with processes not possible before. After the countless hours spent meticulously cleaning airbrushes between each colour, to be able to change colour instantly and with a near infinite colour palette was a revelation and very liberating. Working with a pressure sensitive tablet, Chris achieves a traditional feel to his art. He has been asked many times whether he works in oil or acrylic and the questioner is often surprised to learn the pictures are digitally created.
Celtic Tarot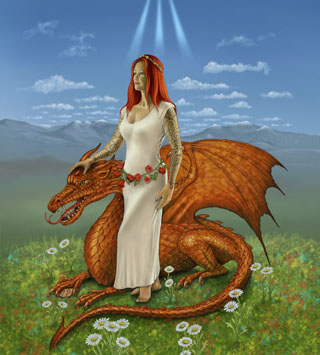 In the spring of 2014, Chris was approached by the publisher Llewellyn Worldwide, who he had been producing art for since 2008, to produce the art for a Tarot deck. The theme for this deck would be Celtic and allowed chris to combine his expertise at Celtic art with his figurative painting. This project would take close to three years to complete and was no small undertaking.
Key to the completion of the Celtic Tarot was the willing help from many people Chris had met at festivals and events over the previous years. Chris had started to take his art around the country to a variety of events. These events have become an integral part of his life and just as important as a gathering of friends as a place to show his art. Continuing the annual cycle of festivals started long before in his formative years. Published towards the end of 2017, the Celtic Tarot had, by mid 2018, already had a reprint and been well received. Vindicating the substantial effort to produce the art required for it.
After the Tarot
On completion of the Celtic Tarot, Chris returned to music and electronics. Once again learning and making it up as he went along, he worked with friend and fellow artist Laura Daligan on an EP which was released on the 2018 Summer Solstice. Fitting after all the long gone Summer Solstices at the Stonehenge Free Festival. Days before the release he and Laura performed the EP at a festival on the main stage. A whole new strand for Chris's artistic creativity is began. The EP can be found on Bandcamp.